[LOCK&LOCK] TWO TONE SPOUT WATER BOTTLE - 600ml (ABF635P)
₩ $7.77 (₩8,590)
Approximate Price.
SKU
0000008626768244900000
Weight

0.13KG
Volume

1.03L
Product
Price: The prices of all products can be changed without notifications, and please be aware to this can't be the reasons for purchasing cancel and refund.
Sold Out: Sold out can be occurred due to store/enterprise's circumstances after placed order.
Free Gift: The free gift can't be distributed due to dispatch condition of each country and the early termination can be occurred due to circumstance of shop.
Customs Clearance
Clearance Fee: The duty or clearance fee can be occurred in the shipping country and the customer requires to pay the fee.
Customs Clearance: The pick up can be required due to customs clearance quarantine in accordance country.
Composition: 1 water bottle/Material: body: TRITAN/packing, holder: rubber(silicon)/water bottle strap - PP, Polyester/lid, neck ring, plug - polypropylene(PP)
Size: two-tone spout water bottle - 600ml/Great for outdoor usage.
Environment-friendly Bisfree water bottle that is easy to drink/the simple design makes it easy to use.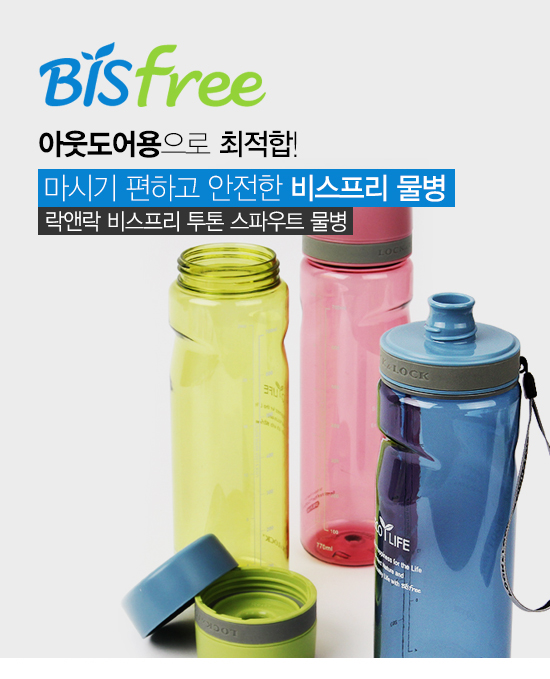 More Information

| | |
| --- | --- |
| Product&Model Name | TWO TONE SPOUT WATER BOTTLE - 600㎖(G) (ABF635P) |
| Material | Body-Tritan/ Packing, Holder-Rubber(Silicon)/ Bottle Strap-PP, Polyester/ Lid, Seal, Neckring-Polypropylene(PP) |
| Component | 1 WATER BOTTLE |
| Release Date for Same Item | Apr. 13, 2012 |
| Size | Width:7.4, Length:7.4, Height:20.7 |
| Standard for Quality Assurance | Quality assurance standards abide by related laws or consumer dispute resolution standards. |
| Manufacturer | Lock&Lock Co., Ltd. |
| Manufacturing Country | Korea |
| Director for A/S & Contact Number | Lock&Lock Co., Ltd. /+82-80-329-3000 |
You can write and edit product reviews in My SSG > My Product Review.